Sign Up for our newsletters today and get holiday recipes not found on this website, from the kitchen of master pastry chef – extraordinaire, Henry Peppermint Twist, to yours!

Some of the amazing recipes you'll get when you sign up are … "Henry's Peppermint Bark," a white chocolate candy with a whisper of peppermint flavoring and crushed peppermint candy pieces — A holiday favorite to be sure! The ever popular "Christmas Cookie," a soon to be family favorite in your house. This color-frosted, shortbread cookie treat are fun to make with children; Be sure to leave a few for Santa, it will make him very happy indeed.
Plus many more sweets and spirits to help make your Yuletide joyous and festive. Delivered to your email just in time for your Holiday Baking.
Recipes from the Sweet Lands
Sugarplums
½ pound dried figs
½ pound dates
¾ cup raisins
¾ cup currants
2 3/8 cups almonds, blanched or walnuts
½ cup pistachio nuts, shelled
2 orange rind, grated
2/3 cup crystallized ginger
¼ cup Brandy ***
Purple sanding sugar, enough for rolling
Finely chop figs, dates, raisins, currants, ginger and nuts with a knife (a large food processor is what I use). Add orange rind and mix until all ingredients are blended together. Knead in brandy. Form mixture into bite sized balls (meat ball sized). Store the sugarplums in airtight container for at least three days so flavors can blend together. After the three days, roll the sugarplums in purple sanding sugar and shape them to resemble plums. *** When making these for children, substitute pineapple juice or orange juice for brandy.
Gingerbread House
Lebkuchen Haus
Here is a great recipe for you to create your own versions of the gingerbread houses featured in this book. Lebkuchen/Gingerbread
7 cups (1.7 L) unbleached, white whole wheat flour (withholding 1 cup/ .24 L)
1 teaspoon (5 ml) baking soda
½ teaspoon (2 ml) baking powder
1 cup (2 sticks / 250 ml) unsalted butter
1 ½ cups (375 ml) unsulphured molasses/treacle
1 cup (250 ml) dark-brown sugar
4 teaspoons (20 ml) ground Chinese ginger
4 teaspoons (20 ml) ground cinnamon
1 ½ teaspoons (7.5 ml) ground cloves
1 teaspoon (5 ml) ground allspice
2 large eggs (or 3 small ones) beaten
To make the gingerbread Preheat oven 350°F (180°C)
In a saucepan, heat butter, brown sugar and molasses over medium heat until butter is melted and sugar is dissolved – do not boil! Remove saucepan from the flame and let cool slightly.
In a large bowl, sift together 6 cups (1.7 L) flour, baking soda and baking powder, ginger, cinnamon, cloves and allspice. Sift the remaining 1 cup (250 ml) of flour and set aside.
Pour butter, brown sugar and molasses/treacle mixture, along with beaten eggs, into flour mixture. Mix together with a spoon until dough forms. Use your hands to work (knead) the dough. Add remaining 1 cup (250 ml) flour a bit at a time until dough is no longer sticky.
Divide dough in half and wrap in plastic. Refrigerate at least 1 hour, preferably overnight, until firm (dough can be made up to 1 week in advance. Just wrap in plastic and refrigerate).
On a well-floured surface, roll out dough to ¼ inch (5mm) thickness. It is best if you do this on a floured piece of baking parchment before you begin cutting your shapes. It will make moving the pieces onto the cookie sheet easier.
Using a template of your own design or using the example provided in this book, cut out the shapes of the house (2 gable pieces, 2 roof pieces, 2 wall pieces and if you prefer the 4 chimney pieces). Chill each piece until firm (15-20 minutes) Bake until firm (20 minutes for large pieces and 15 minutes for the small pieces).
Royal Icing 2 large egg whites (you may add more egg whites or substitute 5 tablespoons /75 ml of meringue powder and 1/3 cup / 75 ml of water to thin the icing). 4 cups (1 L) sifted icing sugar (you may add more to make thicker) and the juice from 1 lemon. Using an electric hand mixer or stand mixer, beat egg whites until stiff but not dry. Add icing sugar and lemon juice. Beat for 10 minutes longer on high speed. Icing should be stiff and glossy and about as thick as toothpaste. If the icing is too thick add more egg whites: if too thin add more sugar. Cover with damp towel and put off to the side until ready to use. This will be the glue to hold the pieces of the gingerbread house together. To construct the Lebkuchen Haus/Gingerbread House You will need a stiff piece of corrugated cardboard or a thin piece of plywood for your base about 18-20 inches square.
Spoon royal icing into pastry bag with medium round tip, or use a re-sealer freezer bag with less than ¼ inch (5 mm) off the tip of the bag. Remove all the air from bag. Keep the unused icing in a bowl covered with a damp towel. Also wrap a damp paper towel around the tip of the pastry bag when not in use.
Using the royal icing as a glue, stand the 4 walls of the house (supporting them with a cup or can) and glue them together using the royal icing. Let them dry for 25 minutes (icing will get hard). Remove the can. Attach the roof pieces, using the cup or can to prop them up. Let dry. Attach the chimney (optional) and let dry. Make sure you remove the can when the pieces have dried properly.
Use icing to attach the house directly to the base. Let set till hard.
Finish your house by decorating it using the royal icing as the glue and lots of brightly colored candies and other edible.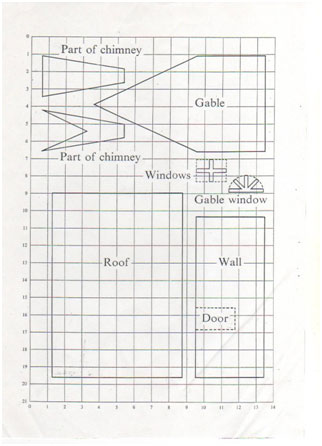 Faerie Cakes
(Honey Cakes) This is a very simple cake for your little faeries
2 cups flour
1 tsp allspice
1 ½ cup clear honey (from the hive if you can get it)
2 eggs
½ cup cooking oil
1tsp. baking soda, dissolved in ¼ cup or orange juice
Preheat oven 325° F /162°C Mix together in a large bowl, flour and spices. Make a well in the center and add honey, eggs and oil. Beat well until smooth. Stir in dissolved baking soda and orange juice. Pour batter into a parchment paper lined cake pan. Measured 10x8x2 (if one this size can't be found, use regular 8 or 9 inch cake tin). Bake for 1hr 25 minutes or until firm to touch. When done, remove from pan and let cool on wire rack. Serve with a spoon of fresh whipped cream and/or fresh fruit. Very lovely with tea or coffee.
Totals Visitors to this site 3153
Visitors today 8